Page Topics
Hydrogen Bonds and Water Surface Tension
---
Crystallization is the process of the formation of crystals, a solid that consists of repeating ions, atoms, or molecules which associate and organize in three-dimensional form. Crystals of sodium chloride (NaCl) form when the positively charged ions of sodium (Na+) associate with the negative charged chloride ions (Cl-). The following video shows the formation of crystals in a supersaturated solution of NaCl placed on a microscope slide.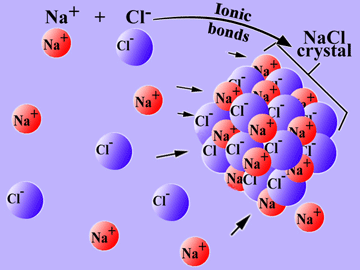 WATCH VIDEO OF CRYSTALLIZATION IN SOLUTION OF NaCl
---
A polar molecule is formed when a molecule has of two regions of opposite charge, a negative and a positive region. A water molecule is a commonly-used example of a polar molecule. The polarity of water is formed because of the unequal sharing of the electrons between the oxygen and the hydrogen atoms. The unequal sharing of the electrons results because of the shape of the water molecule and because the nucleus of the oxygen atom has a greater attraction for the electrons than the nuclei of the hydrogen atoms. Thus, the electrons are distributed unequally; the nucleus of oxygen attracts the electrons making it negatively charged, which leaves the hydrogen nuclei positively charged.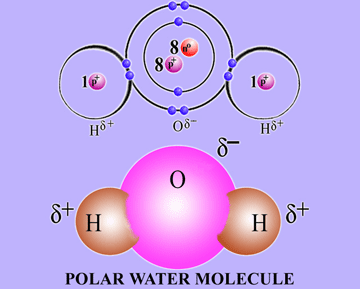 ---
Because water consists of polar (charged) molecules, it reacts to electrical charges. A commonly-used demonstration of the electrical nature of water is to subject a very small stream of water to the static charge of a balloon. The attractive electrical forces between the water and the balloon result in a bending of the stream of water.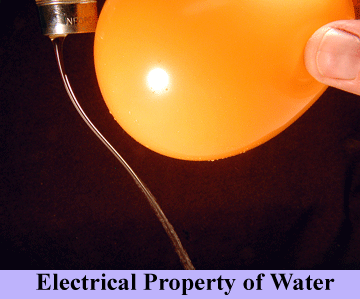 WATCH VIDEO OF ELECTRICAL INTERACTION BETWEEN WATER AND STATIC CHARGE ON BALLOON
---
Hydogen Bonds and Surface Tension of Water
A hydrogen bond is formed by the weak attraction between a positively charged hydrogen atom of one molecule and a negatively charged atom (usually oxygen or nitrogen) of another molecule (or the same molecule). Hydrogen bonds contribute to the organization of substances and molecules. For example, hydrogen bonds contribute to the organization of DNA, proteins, and water. In water, hydrogen bonds form between the positive hydrogen of one molecule and the negative oxygen of another molecule. On the surface of water, hydrogen bonding produces surface tension, the cohesive property produced by the attraction of the molecules of water at the surface.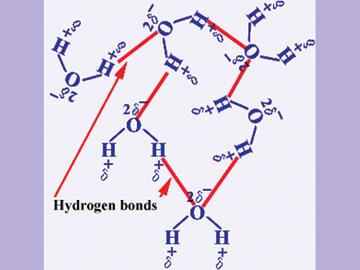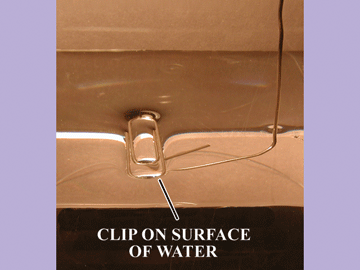 WATCH VIDEO SHOWING PAPER CLIP ON SURFACE OF WATER
WATCH VIDEO SHOWING SULFUR ON SURFACE OF WATER
---
---
Periodic Videos (University of Nottingham; click on an Element to see its Video, Mac users choose "Watch on YouTube"